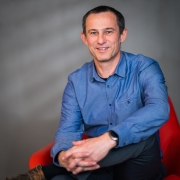 Pim Dekker first worked for Diabeter in 2014 when still employed by the medical communications agency Excerpta Medica, Amsterdam, The Netherlands. He joined Diabeter as researcher in July 2018. Previous positions include research assistant at Unilever, Colworth, UK and PhD researcher at the Leiden Universtity Medical Center (LUMC), Leiden, The Netherlands.
Selected publications include:
Heyden JCV, Birnie E, Bovenberg SA, Dekker P, Veeze HJ1, Mul D, Aanstoot HJ. Losing Track of Lipids in Children and Adolescents with Type 1 Diabetes: Towards Individualized Patient Care. Exp Clin Endocrinol Diabetes. 2019 Jul 4. doi: 10.1055/a-0950-9677. [Epub ahead of print]

Dekker P, Gunn D, McBryan T, Dirks RW, van Heemst D, Lim FL, Jochemsen AG, Verlaan-de Vries M, Nagel J, Adams PD, Tanke HJ, Westendorp RG, Maier AB. Microarray-based identification of age-dependent differences in gene expression of human dermal fibroblasts.Mech Ageing Dev. 2012 Jul;133(7):498-507.

Dekker P, Meissner A, Dirks RW, Eline Slagboom P, van Heemst D, Deelder AM, Tanke HJ, Westendorp RG, Maier AB. Human in vivo longevity is reflected in vitro by differential metabolism as measured by (1)H-NMR profiling of cell culture supernatants.Mol Biosyst. 2012 Mar;8(3):783-9.
A complete bibliography can be found here.